Sync with other devices & apps (e.g. Samsung Health, Garmin & Fitbit)
We're currently working on plans to offer direct integrations with devices such as Fitbit & Garmin watches, Oura rings, and apps such as Samsung Health.
BUT In the meantime, we can give you some instructions as to how to link some of these to Google Fit and Apple Health:
1. Fitbit
For Android & iPhone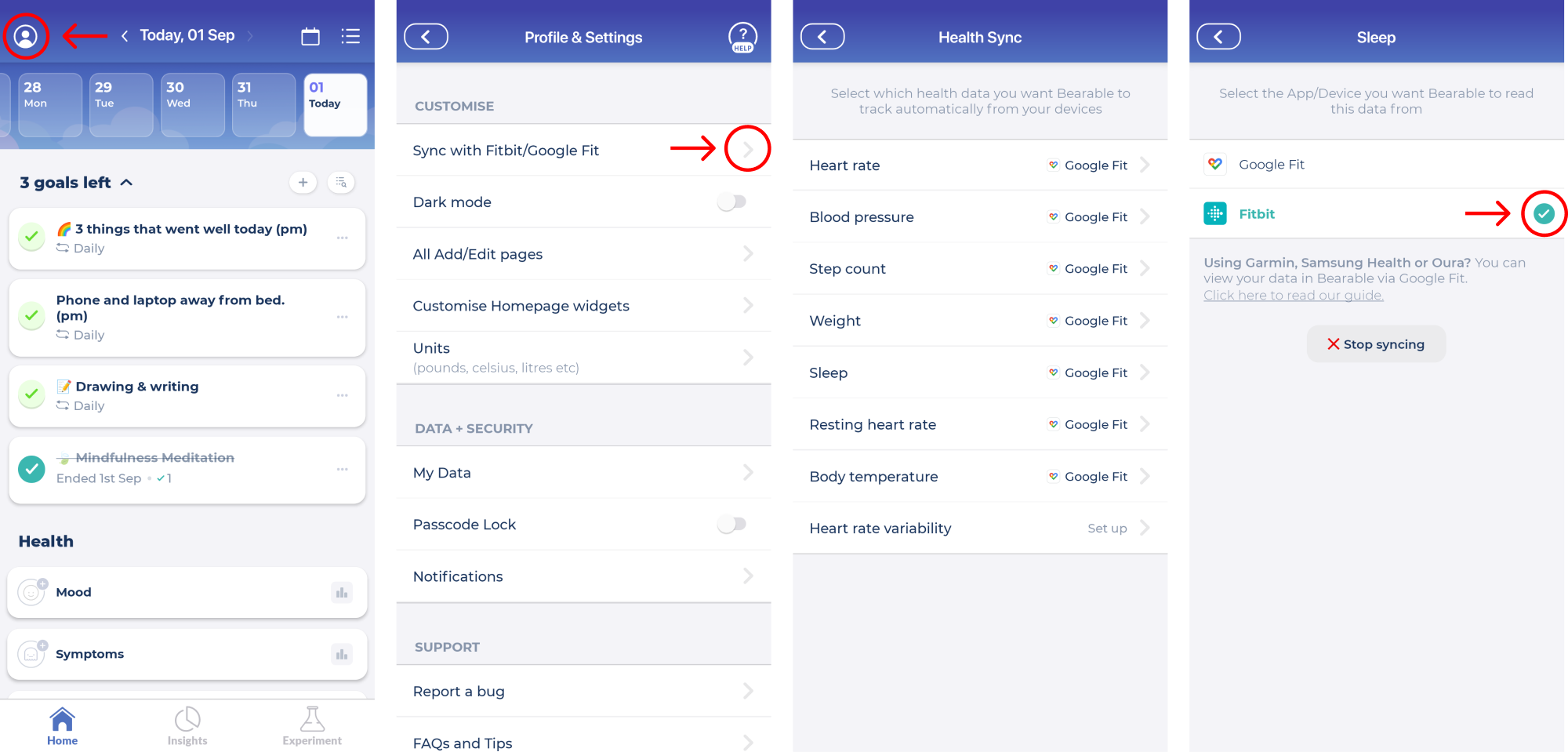 You can now sync a number of health metrics directly from Fitbt, including; Resting Heart Rate (RHR), Heart Rate Variability (HRV), Sleep, Steps, and weight.
To sync any of these metrics from Fitbit:
Click the profile icon in the top left-hand corner of your home screen.
Scroll down to the Customise section and click on Sync with Fitbit.
Then tap on any of the metrics you'd like to sync from Fitbit.
You'll then be able to select Fitbit as the source to begin syncing this data directly into Bearable.
When setting up this integration, you might also be taken to a page within the Fitbit app to finalise the process.
Note. For syncing any metrics that can't be integrated directly with Bearable:
Android users can use the Fit2Fit app and follow their instructions for syncing Fitbit data via GoogleFit.
iPhone users can use apps like IFTTT and Sync Solver to sync Fitbit data via AppleHealth.
2. Samsung Health
For Android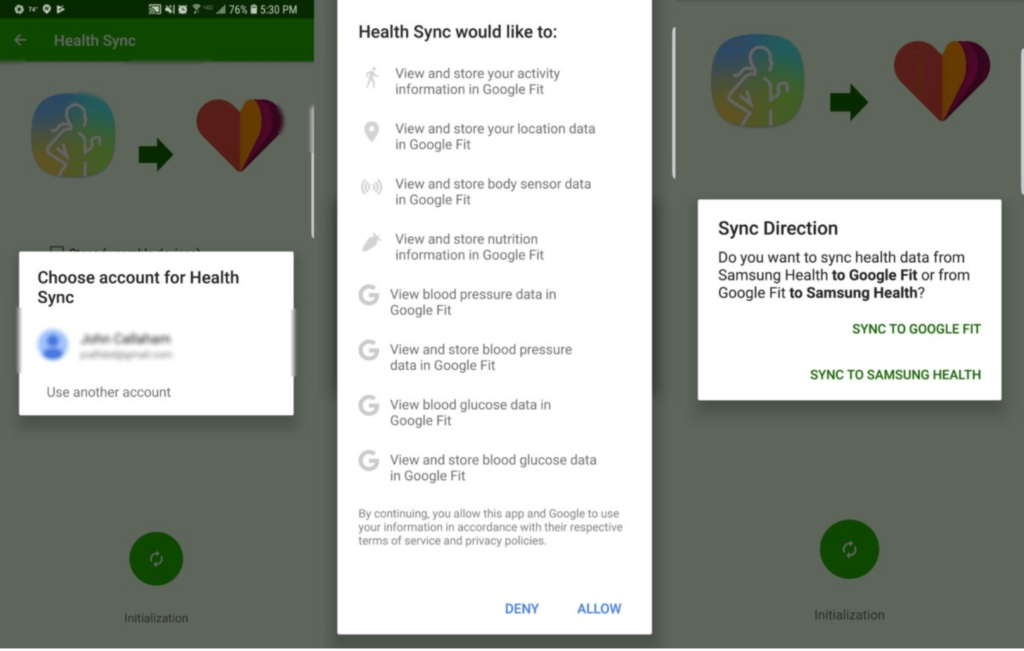 The app will ask you to sync Google Fit to Samsung Health, or go in the other direction and sync Samsung Health to Google Fit.   Be aware that if you choose the latter option, you should make sure that you have disabled steps and activity tracking in Google Fit or it could lead to some data conflict issues.
Note: Health Sync will sync your data 4 times per hour, though you can increase or decrease the syncs per hour to up to 6 times per hour.  Health Sync is free to use for the first week, but after that, you will either have to subscribe to the app or purchase it for a one-time fee.
For iPhone
If you want to use a Samsung tracker (such as the Samsung Gear) with an iPhone, you will need to download the Samsung Health App for iPhone.  The Samsung Health App will auto-sync the steps data to Apple Health.  Apple Health is where Bearable will receive your steps data.
3. Garmin
For Android
See above – the same steps apply here as for connecting Samsung Health.
Remember, if you sync using the HealthSync app,  you should make sure that you have disabled steps and activity tracking in Google Fit or it could lead to some data conflict issues.
For iPhone
According to Garmin, Garmin Connect Mobile (GCM) version 2.6 and above provides support for the Apple Health Kit.
Once Connect sharing is enabled in Health, the steps data will begin syncing with Apple Health after each successful device sync in Connect Mobile. Please note that, at this time, data is shared with Apple Health while the Connect Mobile app is in the foreground. If the app is closed or sent to the background, the transfer of data will not complete until there has been a successful sync with the device while the Connect Mobile app is open.
Follow these steps to enable sharing:
Open the Apple Health Kit app.
Go to your profile (top right icon).
Tap Apps
Tap Connect
Toggle to enable the data you want to collect, e.g. steps.
You should then be sure to fully sync your Garmin tracker with the Connect app before opening and restarting Bearable. (Again, syncing must be completed fully while the Connect app is in the foreground, or your data will not be shared.)
4. Oura
For Android
For iPhone
Similarly, you can use the same method to connect Oura pretty easily.  For full instructions
check their website.
Still need some help? Get in touch with our Support Team.